Memorial and Honorary Gifts
The Buffalo Nations Cultural Society Museum gratefully accepts honorary and memorial gifts. Please make your gift using our online donation form, and select the option for honor or memorial gifts. You will be able to notify others of your gift using this option.
The Buffalo Nations Cultural Society Directors and Staff wish to acknowledge the lifelong contributions of founding Director Stan Cowley, including all of his native and wildlife artifact collections, candor, dedication, inspiration, historical knowledge and shared stories, museum tours, organizational and business acumen, to which he tirelessly dedicated his life to helping the People of Treaty 7 Nations. Stan is an Honorary Chief of all five Nations.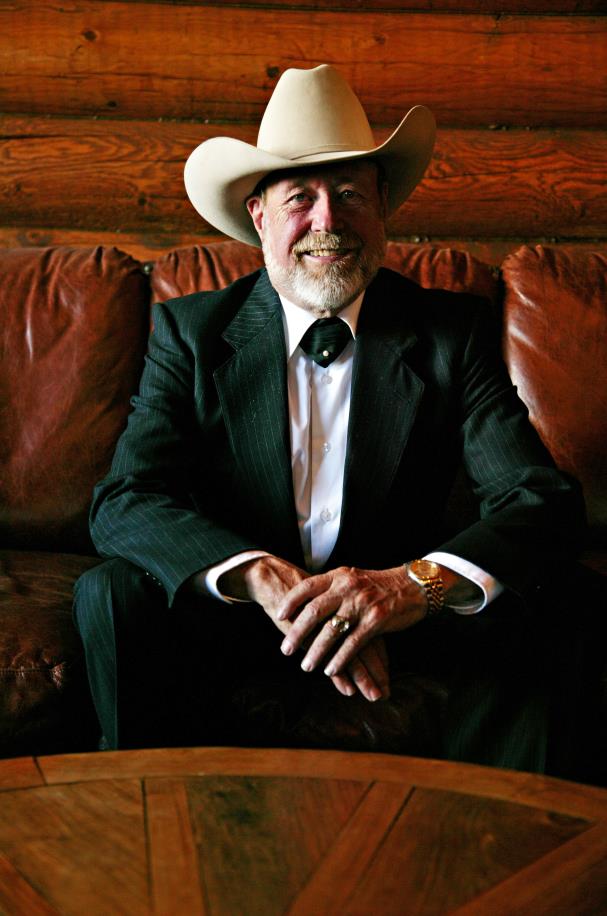 Stan Cowley 1936 ~ 2023
Photo of Stan Cowley courtesy the Cowley Family
The charismatic character of Stan Cowley was legendary. He had the ability to build and create endless possibilities with people and places. We always remarked on how, no matter where in the world he was, he had friends - and if he didn't, he would make them.
When Stan was a young boy, he grew a passion for the cowboy lifestyle with the Calgary Stampede and his friends from the Indian Village. He was just 13 years old when he became Blood Brother to Chief Walking Buffalo in a Sundance Ceremony, and throughout his life became an Honorary Chief of the 5 tribes of Treaty 7. The vision given to him was "to teach the people that they were like the trees of the forest, all different, but standing in harmony with one another". His dream was always to create a Native Cultural Park in the Bow Valley, and when he first arrived at Rafter Six Ranch, the realtor in him knew he had found the best location there.
His love of the cowboy lifestyle was certainly reflected in his long-time participation with the Calgary Stampede. His involvement included having a wagon in the Chuckwagon races, being a volunteer of the Indian Events Committee and eight decades of parade participation, including a wagon pack trip from Rafter Six Ranch to the Calgary Stampede in 2012 for the 100th anniversary.
It was at Rafter Six Ranch where Stan had the opportunity to really grow into an Alberta Icon. He was always willing to share his stories, laughter, and love for people through his "Passing of the Legends" museum or even at the coffee shop. Along with his family, Stan shared their genuine hospitality and passion for Alberta tourism in the most natural ways.
Stan was well respected and greatly loved by old time pals and newcomers alike. He was a gatherer of people, and always took time to share his stories and dreams with all who came. He always would try to make those people a part of it. His reach was far and wide and truly welcoming and generous. A life lesson he taught was "if you have something special, share it and it will grow".
A Memorial Tribute will be held at Rafter Six Ranch on Sunday, October 22, 2023, from 1-4pm. Please dress for mountain weather as this event will be outside. In lieu of flowers, please consider donating to Buffalo Nations Museum in Banff, Alberta as Stan was instrumental in forming the Buffalo Nations Cultural Society and its role in attaining this museum.
BUFFALO NATIONS MUSEUM APPRECIATES YOUR SUPPORT
The museum is kindly seeking your help to fund our operations. The vision of the Buffalo Nations Museum is Inspiring Respectful Coexistence. The mission is:
To preserve the cultural identity of an historic building in Banff

To provide a safe space for Indigenous peoples of Canada to share their history, culture, and knowledge.

To transform people connecting with each other in this sacred place and encourage them to practice reconciliation.
​Here's what we're working on:
Powwow's back! 5th Annual Banff Iiniskim Cross-Cultural Powwow June 8, 2024.
Sacred Buffalo Mountain Guardian Gathering on Tunnel Mountain in Banff may be held 2 weeks after the first spring thunder, to integrate the story of the buffalo into Banff National Park and the Town of Banff.
Spirit of White Buffalo parade entry, supported by Calgary Animated Objects Society and Buffalo Treaty Committee, a 12-foot tall human-powered kinetic sculpture of a white buffalo accompanied by 26 persons, a reminder that, together we are stronger, a message deeply rooted in the Bow Valley that we wished to share across Canada by participating in the Banff Canada Day parade and the Calgary Stampede Parade.
National Film Day April 22, a talk on climate change by Arctic guide David German followed by the new film release A Day in the Life of Noah Piugattuk. On a large scale, the story of forced relocation of a nomadic Inuit man has parallels with the prospect of enormous change of lifestyle in the north due to climate change.
Opening exhibit party, Len Morissette, Cree Medicine Wheel, photographs taken during the making of an opioid addiction film for Alberta Friendship Centers.
Opening exhibit party, Bev Simms, Water is Life, perspectives from science and Aboriginal cultural value of water.
Opening exhibit party, Arctic in Colour, couture is art, stories in the hides.
Opening exhibit party, Spirits of Dancing Buffalos, Horses, and Elders, the pageantry of puppetry illuminating the unity of animals and people.
Salmon Festival, a conference and dinner, to advocate the return of salmon to the Upper Columbia River Drainage to Canal Flats with the Shuswap and other First Nations, Elder and Intertribal Fishery Commission talks, booths, dancing, and song.
There's a past and a future inside the walls of this museum.
Please donate to help charities which help people. From the Board, management, and staff of the Buffalo Nations Museum, thanking you with greatest respect for your vision!
Charitable donation tax receipt available upon request for all donations.
In Person: Donations of any size are always gratefully accepted on-premesis.
Online: Donate any amount, by clicking on the DONATE NOW button.
Email: Please contact us at info@buffalonationsmuseum.com
Mail: Buffalo Nations Museum, Box 850, Banff, AB T1L 1A8, cheques payable to Buffalo Nations Museum.